RICK STEIN RECIPE

Vetou's magret de canard with red wine sauce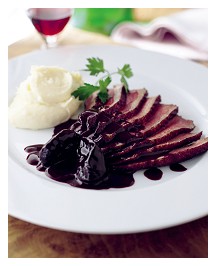 Vetou's magret de canard with red wine sauce (serves 4)
• 8 dried Agen prunes
• 4 duck breasts, about 175-200g each
• 150g carrots, roughly chopped
• 1 onion, roughly chopped
• 3 shallots, roughly chopped
• 5 garlic cloves, roughly chopped
• 600ml red wine, such as Languedoc or Corbieres
• 3 cloves
• Large sprig thyme and 2 bay leaves
• 15g plain chocolate
• Salt and freshly ground black pepper
• Sauteed or pureed potatoes to serve
Put the prunes into a bowl and cover with cold water. Leave to soak for 1-2 hours. Season the duck breasts on both sides with salt and pepper. Heat a large, heavy-based frying pan over a high heat. Add the duck breasts, skin-side down, lower the heat slightly and fry for 2 minutes until the skin is nicely browned. Turn over and brown them on the other side for 2 minutes, then lift onto a plate and set aside.
Add the carrots, onions, shallots and garlic to the duck fat left in the pan and fry over a medium heat for 10 minutes, stirring now and then, until soft and golden brown. Add the wine, bring to a rapid boil, then light with a match and shake the pan for a few seconds until the flames have died down. This burns off the alcohol. Then lower the heat, add the cloves, thyme and bay leaves, and leave the sauce to simmer gently for 10 minutes.
Return the duck breasts to the pan, skin-side down, cover and simmer for 2 minutes. Turn the duck breasts over, re-cover and cook for a further 2-3 minutes. This will give you duck that is still pink in the middle, but if you like it a little better cooked, cook for up to 1 minute more on either side.
Lift the duck out of the sauce onto a plate, cover with foil and leave to rest in a low oven (about 100 degrees centigrade) while you finish the sauce. Add the chocolate to the sauce and simmer for 2-3 minutes more. Then pass through a fine sieve into a small pan, pressing out as much liquid as you can with the back of a ladle. Drain the prunes, add them to the pan, and simmer over a medium heat until they have heated through and the sauce is nicely reduced and well flavoured. Season to taste with salt and pepper.
To serve, lift the duck breasts onto a board and carve, on the diagonal, into long thin slices. Lift each one onto a warmed plate and spoon 2 of the prunes alongside. Spoon some of the sauce over and around the duck and prunes and serve.

Recipes courtesy of "Rick Stein's French Odyssey - BBC Books"
Images courtesy of James Murphy.

back to top