The Sweet Life

The Brenta River, once a critical route for transporting goods, produce and people from the countryside into Venice via horse-drawn boats, is more a relaxing break from the bustle of Venice than a spectacular waterway in itself. But its numerous old swing bridges, locks, tiny villages and ostentatious country villas - especially the 18th century Villa Pisani with its magnificent baroque façade, sprawling gardens, elaborate frescos and fascinating history (it was owned briefly by Napoleon) - are all pleasant diversions and completely lacking in crowds. A fleet of bikes on board make a jaunt beside the slow-moving barge, or a quick trek into villages along the way, a pleasant break. Although even that proved to be too much effort for this easy-going crowd.
"I may have touched a bike, but only to stabilize myself," jokes retired Connecticut businessman Dick Van Horn, on his second barge trip with wife Irene. The real fun comes in sharing stories and sipping Campari and soda decktop while glimpsing everyday life in Italy. Or breaking bread over delicious regional specialties cooked up by Sak with local ingredients not usually part of his French fare. Thankfully, steward Karim Bekkous, 30, is all too willing to steer Sak on the straight and narrow - and jump onto shore for critical supplies, such as Campari.
"Now that's customer service," laughs Irene Van Horn as she watches the captain nose the barge toward shore at the tiny town of Mira so Bekkous can leap off the boat, nip into a shop for a bottle of the Italian aperitif and bound back onto La Dolce Vita from the deck of another boat, all in the time it takes for our barge to pass through a swing bridge.
"It was dangerous, but I did it," says Karim with a smirk, onboard for just two weeks after 14 years in the hotel industry. "It's not much different, except for having to be careful not to bang your head." He also proved invaluable at helping Sak navigate in the galley.
"My challenge was to do Italian - and that means three courses (rather than the four he serves in France)," says Sak. "The first night I was about to serve a fish entrée and then a meat dish and Karim said, `No, no no. In Italy, never.' It's either all fish or all meat. It's been a real challenge to do typical Italian as much as possible."
It's that personal touch - along with local food, fine wine and, usually, a deep insider knowledge of the barging route - that has made canal cruising so popular, says "The Barge Lady," Ellen Sack.She has been helping tourists book excursions on barges carrying anywhere from just four to 50 people in France, Holland, Germany, Ireland, England and Scotland for more than two decades (although 95 per cent of her booking are in France, s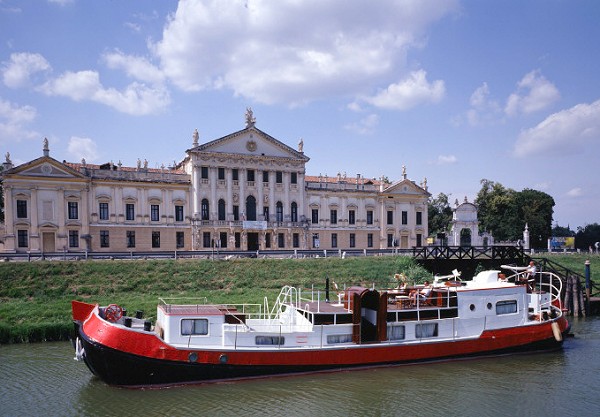 he notes.)
"I say to people, `Banish all thoughts of cruising from your mind. This is totally different,'" says Sack, having just returned from a week-long barging excursion through Burgundy. "The thing about barges is they don't go very far. Our average itinerary is 30 to 50 miles (48 to 80 kilometres) in a week. You can walk faster than the boat floats. They're for people who are looking to get out of the cities and see Europe from a different point of view."
Many barge owners, such as Sak and his mother, Hazel Young, have lovingly converted these old barges into luxury hotels. The 80-year old Tango and Fandango, for instance, have been meticulously restored in the style of 1930s French passenger liners with antique mahogany, brass portholes and six tonnes of handmade tiles which provide both needed ballast and unique splashes of colour.
The open galley makes a welcome gathering point for both crew and passengers, not to mention a great wine-tasting spot in an area of France best known for just that. La Dolce Vita is far more rustic, with a charm all its own and somewhat tight, but efficient, sleeping quarters, largely because it's just 21 metres compared to the usual 30 or even 38-metre barges that sail the rest of Europe.
"You come on a barge to get away, to go back 100 years, to go somewhere different. You don't want to be anywhere near modern life." Taken from an article in the Toronto Star.
Visit La Dolce Vita or contact us today about a cruise in Italy back to top