The Three Glories

Beaune Wine Auction
In the third weekend in November and we have the "Les Trois Glorieuses" or the three glorious days.
The three days are centred on the Hospice de Beaune wine auction,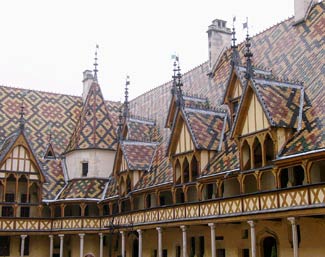 which is the oldest and most traditional wine auction in the world. It dates from 1859 when 189 barrels of fine Burgundy wine were sold.
The weekend, though, starts with a street festival in Beaune and an open house wine tasting in the town where it is possible to taste the latest vintages. On the Saturday afternoon there is also a half-marathon race through the vineyards surrounding Beaune.
Sunday dawns to the world-famous wine auction of the new harvest held in the Hospice or Hotel-Dieu. The Hotel-Dieu was founded in 1443 by Nicolas Rolin, then Chancellor to the Duke of Burgundy as a home for poor invalids.
In 1971 President Pompidou inaugurated a new modern hospital and the Hotel Dieu then became a museum. The courtyard with its Burgundy style glazed tiles is a sight to literally take the breath away while the building itself contains the hospital wards retained in their original, ancient state plus a superb collection of priceless treasures.
The Hospice vineyards of some 60 hectares are scattered through the principal appellations of the Cote de Beaune and a small area of the Cote de Nuits.
The auction brings in approximately 1.5 million Euros per year and a proportion of the sale value still goes towards the care of the sick and modernising and maintaining the modern hospital in Beaune. The day's climax is a grand candlelight dinner in the old Hospice de Beaune.
For those with a strong constitution (or, more accurately, able to obtain a ticket which is virtually impossible) the third day (Monday) of the Trois Glorieuses is all about Meursault and its Paulée. Meursault, the so-called capital of the great white Burgundies has revived the custom of a Paulee or feast to mark the end of the grape harvest. Nowadays the Paulée brings together winegrowers, their workers, friends, wine experts and writers from all around the world. Each of the guests brings his own bottles and, quite literally, it is possible to taste over 150 wines during a feast that commences at midday and finishes when the last person staggers out of the venue, the Chateau de Meursault.
For those keen to sharpen their prose a literary prize of a 100 bottles of Meursault is presented at the Paulée on the basis of a writers work – nominally linked to their writings on the vine and wine, fact or fiction.
Santé et Bonne Fête!
Our barge La Belle Epoque cruises through delightful Burgundy and offers a very special wine cruise for anyone interested in sampling the regions finest wines while enjoying a luxury barging.experience.
visit La Belle-Epoque wine cruise page . contact us today about a cruise in Burgundy. back to top