Hello,

Welcome to the November 2005, 29th edition of the lock-keeper.

Some of the more regular visitors to our Gobarging website may have had a look at our links page. One of the links is for our local Wraysbury Skiff and Punting club (WSPC) which started in 1931 on the Thames near Windsor and which has been a favourite watering hole and rowing centre for both Banks family members and Gobarging office staff for over 30 years.

WSPC is situated nearby at Runnymede on the Magna Carta route between Hampton Court and Henley, and is one of the most upstream skiffing clubs on the Thames.

This is a picture of yours truly winning the family doubles last season with son Tom at stroke and daughter Kayleigh at the helm.

We have finally raised all the money to build a brand new club house and this is being finished off by the rowing club members.

This weekend, the taller members will finish the outside painting! Rowing memorabilia will become part of the new decor and I will be restoring the original skulling blades used by Club founder Eric Haines.

In this month's edition, we have a feature on Chef Jen McStay, we introduce new early season Spring dates and three new additions to the GoBarging family.

Lynne Underhill reports on her Scottish Highlander cruise, we announce the Impressionniste Spring cruise winner and, as it's approaching the Holiday season, we have a bumper hamper to give a way in our November competition.

So, once again, lots of hopefully interesting stories for you to read.

I look forward to hearing from you, and seeing you at our website, where you can find out all about GoBarging and keep up to date with the latest news as it breaks....

please read on and welcome aboard,

best regards,




Derek Banks - Chairman and Barge skipper


in this issue:

Chef profile

Spring cruises

Three newcomers

Scotland the Brave

October competition winner

November competition

News

back issues:

january 05

february 05

march 05

april 05

may 05

june 05

july 05

august 05

september 05

october 05

(please note that past competitions are now closed)

visit our website

barge cruise at
www.gobarging.com

Chef Profile - Jen McStay

Jen has been working on our barges for 4 years now and has developed quite a following amongst our passengers!

She originates from South Africa, but moved to the UK in 1997.

Jen has been involved in the world of cruising world for around 7 years, having gained her sea-legs hostessing on private yachts in the Mediterranean and the Caribbean. Becoming interested in barges, she applied to be a hostess on Anjodi and l'Art de Vivre, on which she spent 4 happy seasons.

A background in hospitality, coupled with an upbringing in a family of chefs, were bound to spark off an interest in cooking. The barge offers the perfect ambiance in which to learn. Jen was able train both on the job and through other channels (her sister also worked for us as the chef on l'Impressionniste), and when she joined Nymphea this year, she became the chef and housekeeper.

Jen is very attentive to the comments of the guests, especially on the first night of the cruise. This is a great opportunity to glean information about their culinary favourites, upon which knowledge she can build when planning menus.

Jen enjoys preparing regional specialities, with a special emphasis on colour. She likes to present her dishes using colourful fruit and vegetables which come and go from the menus according to the season.

When asked where she gets her inspiration, she modestly says it comes from the sights, smells and colours of the Friday market and the friendly butcher at Montrichard who is keen to share recipes and ideas with her. Magazines and general chit chat are also good sources for ideas.

When not in the galley, Jen can be seen all over the boat, keeping it ship-shape and Bristol fashion and also driving the minibus between the moorings - so she is a good all-rounder!


Spring Cruises

in Burgundy, Southern France and Scotland



We are pleased to announce that La Belle Epoque, Scottish Highlander and Anjodi will be starting their cruising season earlier in 2006, with their first departures on 5th March, giving the possibility to more avid barging enthusiasts to get out on the water in 2006!

Not only that, but La Belle Epoque is offering a change from her normal itinerary between 5th and 26th March. She will be cruising during that time between the little town of Misy sur Yonne, south east of Paris near the confluence of the Yonne and the Seine, and the beautiful town of Auxerre in Burgundy.

Highlights of the cruise will be a visit to the town of Sens, which possesses France's earliest Gothic church, the beautiful Renaissance palace of Fontainebleau, a favourite country house retreat of French royalty, the open-air produce market at Joigny, a visit to the wine town of Chablis, and the town of Auxerre itself.

See the new La Belle Epoque March 2006 itinerary here.

Although the weather is still pretty cool at that time of the year, the air is crisp and the roads and towns less populated with tourists, allowing you to move more freely. Enjoy the first signs of spring as you gently meander the waterways, with plenty of time to examine and take in the natural beauty of the countryside.

back to top


October Competition winner
Spring Cruise for two on L'Impressionniste in Provence
Last month you could win a cruise for two next Spring in Provence, aboard L'Impressionniste. Find out who's won here.


November Competition
Win the Ultimate Christmas Hamper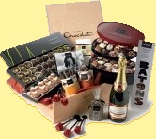 To celebrate this 29th November edition of our monthly newsletter we are running a new competition with a bumper prize. To win, all you have to do is answer a few simple questions. Answer all questions correctly and you could be selected at random to win the Ultimate Christmas Chocolate and Champage hamper...packed to the gunnels with essential Christmas luxuries:

Enter the competition here.



News
2005 in Upper Loire - busy summers are back!
On Hotel-Barge Meanderer, our best season ever draws to a close. 2005 has been Meanderer's most successful yet with 23 weeks of operation, great guests, brilliant crew, typically French weather, flowers galore and a bumper grape crop for the wine makers - and that's just what we thought of it!

Here are some typical guest comments from the season;

"A SUPERB week thanks to Phill, Hannah, Ben and Stuart! Outstanding service, delicious food, beautiful scenery, charming villages - above and beyond our expectations."

"The most glorious and relaxing week that we have ever had. Thank you all so much!"

"We drove, walked, ate, laughed, talked, dreamed, bathed, shopped, met, sipped, slept, listened, felt, read, relaxed, breathed, loved, left, CRIED! Merci!! !"

"A wonderful relaxing week. Great food and wine, wonderful company and great hospitality. We will remember this trip for a long time."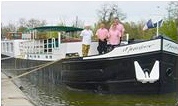 And so, onto the winter...more improvements aboard Meanderer! The winter months will see us introducing yet more improvements to ensure Meanderer looks absolutely perfect for next season's guests.

The kitchen and bathrooms are being renovated, all interior and exterior paintwork will be redone and we are upgrading the air conditioning system to take advantage of the new breed of neat, efficient AC units available.

The work is being carried out in a shipyard at Migennes on the River Yonne about a week's cruising from The Canal de Briare. Meanderer's winter crew (Phill, Hannah and Ben, our excellent steward) will all be working hard at completing work before the winter weather really closes in.


If you have any suggestions, feedback or barging stories to tell us, then please e-mail us. We'll be glad to hear from you and share your inputs in the lock-keeper.

Why not email this edition on to a friend, and let them share the fun. New subscribers can sign-up here, and are very welcome. More people are joining every day, so let's keep building a great Barging community..!

That's all for this 29th edition of the Lockkeeper, and hopefully the above articles have whet your appetite for that well-earned luxury cruise..!

Please visit barge cruises and have a look around, or follow the individual links above.

The next edition of the lock-keeper will be out in December, 2005, so we'll see you then.

back to top