L'Impressionniste - continued
We had anchored in the Herault River, Languedoc, world famous for its fine wines and. nearby is Agde, France's second largest city, founded 2600 years ago by Phoenicians. Sixty Five kms further on is Cap d'Agde where the famous Adonis (Ephebe) statue stands. It was only discovered beneath the Herault River in 1964. Tourists ashore had picked up (in error, I ask you) a pamphlet featuring Cap d'Agde and its Nudist Quarter, which takes 40,000 people in summer. It has its own long 2 km beach, shops, banks, bars, nightclubs, Marina, pools, surgeries and yes, their own police station! The mind boggled and I swore to pay more attention in future to pamphlets….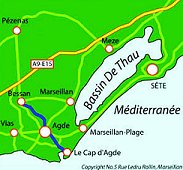 Early morning walkers passed my port hole with speed in reserve and after a delicious breakfast aboard, the barge set off on the 300 year old Canal du Midi to Marseillan, a tiny village with coloured cottages scattered around like blobs on an artist's pallet. Founded in 600 BC, its harbour opens onto the "Etang de Thau" (lake) producing half of France's oysters.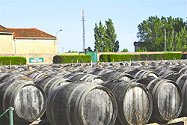 We walked to the nearby, Noilly Prat winery where as result of a shipwreck of casked Picpoul and Clairette wines for America, were held under legal dispute. Sealed by sea salt, they lay outdoors in the son and rain for over a year until in 1830, Joseph Noilly acquired them and added 20 secret herbs to the casked wine. By an amazing twist he created the unique and now world famous Vermouth Noilly Prat aperitif. It is, if you are also romantic, best enjoyed in a Waterford Crystal glass at a chilled 10oC (no ice).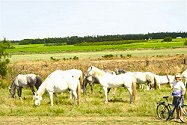 Suddenly, we were in the Camargue countryside amongst a herd of the world famous white wild horses running free there. It was one of the most memorable sights I had seen in 20 years of international travel journalism. Overhead beautiful flocks of elegant pink winged Flamingos, honked like Model T Fords, flapping erratically in the bluest of skies.
The barge put-putted to Aigues Mortes (Dead Sea), developed by Louis 1X in 1240 as a base for Crusaders going to the Holy Land. However when Louis X1V took over in 1685, he persecuted all Huguenots refusing to convert to Catholicism, flinging many into the Constance Tower 'to rot.' And in 1715 it became a Women's prison and Marie du Rant was incarcerated here for 38 years bravely inscribing her window with the famous call to the world: 'REGISTER' (resist). Was she related to our own Springbok hero Os du Rant?
Arles is France's largest city with a surface area of 758 sq. km. The famous "Ferias" (bull runs) and bullfights are held here in the old Romanian arena. Arles attracted artists like Van Gogh who produced two hundred paintings including the famous ' Yellow Building' canvas. His friend Paul Gaugin stayed with him whilst Picasso, a fanatic of bull fights, created two paintings and 57 drawings there. The Van Gogh tour is a delight.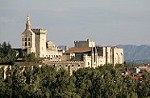 We cruised the mighty Rhone River on our last day, finally tying up in Avignon where two graves suggest it was occupied from 3000 BC. In the fourteenth century, Avignon became the capital of World Christianity and the first Avignon Pope there was Clemente V. Seven Popes succeeded each other followed by two Schismatic Popes. Their Avignon reign ended in 1426 with the Definitive return of the Papacy to Rome. Today 600,000 people visit Avignon annually and the highlight is a trip to the magnificent Palais des Papes (Palace of the Popes).
The Captain's final dinner was extravagantly 'trebian' (excellent) and as we came from the 4 corners of earth, some shed tearful farewells with new friends; we had become happy-chappies. My mind turned proudly to the Huguenots and I reminded myself of the late South African multi millionaire, Anton Rupert's observation in his book, 'Priorities for Coexistence': 'A nation without a history is like a man without memories'.
Barging in ancient France had provided time to think clearly and I decided once back in SA, I would balance each work day with time for myself, no matter what; and to go barging again! The regions history enhanced my grand respect even more for our own SA past and it gave me a feeling of contentment and permanence again; for life, for ever. What a trip. Buck Maguire: Cape Town: traveljournalist@mweb.co.z ...
Contact us today to find out more about our L'Impressionniste cruises back to top