Hello,

welcome to the July edition of the lock-keeper.

As our loyal hardworking crew go about their day to day tasks in a normal GoBarging day, I always enjoy casting an admiring glance in the direction of their polished skills which reflect their enthusiasm and attention to detail.

These two key elements make the difference between an average holiday and something to remember forever. Couple this with the best cruising grounds in Inland Europe, a fleet of fine handcrafted vessels and a 33 year record of continued steady growth and it soon becomes apparent why our barge cruises are so enjoyable

This month in the lock-keeper, we focus on Burgundy. We introduce Captain Nick Jones of La Belle Epoque, enjoy a cruise on board through the eyes of Reg Butler a local writer, and have some great feedback from well-known Australian chef Ian Parmenter who also travelled on La Belle Epoque this year.

Our great summer offers are still available and we are offering you the chance to GoBarging while enjoying the 2007 Rugby World Cup in France next year.

We announce our June competition winners and to give you inspiration when entertaining, whether enjoying a British summer or an Australian winter, this month's competition gives you the chance to win a mouth-watering copy of Rick Stein's French Odyssey! Rick is back on the BBC with a repeat of his TV series.

I look forward to hearing from you, and seeing you at our website, where you can find out all about GoBarging and keep up to date with the latest news as it breaks....


best regards,




Derek Banks - Chairman and Barge skipper


in this issue:

Captain Jones

Cruise offers

Go Barging in Burgundy

French Odyssey revisited

Consuming Passions

RWC 2007

July Competition

June winner

Cruise News

back issues:

archive

january 06

february 06

march 06

april 06

may 06

june 06

visit our website

barge cruise at
www.gobarging.com

GO BARGING IN BURGUNDY
Article and images courtesy of Reg Butler, who travelled on La Belle Epoque on 30th April this year

The hotel-barge "La Belle Epoque", operated by European Waterways, was moored at the marine quayside of Auxerre, the capital of northern Burgundy. Here was where Napoleon embarked on his journeys to Paris - down the River Yonne and into the Seine. But our week-long journey was up-river to the little town of Clamecy, through one of the richest areas of France with tranquil scenery, great wines and gourmet food.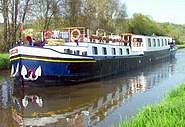 We weren't expecting such a large and luxurious boat. It had started life as a 360-ton freight barge, working the waterways of Holland, Belgium and France. Measuring 126 feet long and 16 feet wide, it was converted into a 12-passenger hotel barge in 1995, and was refitted again early in 2006.

The six air-conditioned cabins range from 125 to 165 sq feet including the marble-tiled bathrooms. Everything on the holiday was totally inclusive - open bar, gourmet cuisine with carefully selected fine wines, and daily excursions by minibus.

The barge captain, Nick Jones (see above), was an ex-Army man who had served in the Falklands, Northern Ireland and the first Iraq war. Living in Burgundy for the past ten years, he had an in-depth knowledge of the region. Some of the minibus excursions he conducted himself. Others were led by Frankie, a local resident originally from Chile.

Wine tourism was the highlight in this region of Northern Burgundy. Close to Auxerre is Chablis country, where the Chardonnay grape grows to perfection on the scenic hills. Just north is Champagne, and the Burgundy region produces its own sparkling wine called Crémant. This champagne-type wine was freely on tap aboard the barge, as part of the open bar. We just helped ourselves.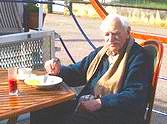 Tranquillity was the theme as the barge made its leisured journey while passengers relaxed on the spacious sun deck. There were locks to negotiate along the parallel Nivernais Canal, which is rated as the most beautiful in France. Anyone feeling energetic could stroll along to the next lock or borrow a bike from the on-board rack of a dozen. In fact occasional dates are selected for low-key walking cruises

Meanwhile the master chef Louis Dutton - originally from Yorkshire, but with many years of working in several regions of France - would be preparing the next gourmet lunch or dinner. He was normally up early every morning to buy the freshest produce, including newly-baked baguettes and croissants. Burgundy is famed for its gastronomy, and Louis could extend it with specialties from other areas. So the cruise featured ten gastronomic meals and one ashore, with well-chosen white and red wines to match. Every feast was something to remember.
Go Barging in Burgundy
continued

Emily Cassidy, the Cruise Hostess, was another migrant from Yorkshire, and very knowledgeable about food and drink. Each wine was presented with full details about its origins, cultivation methods, history and why it was chosen. Likewise each dish was described, including different cheeses every day, with Louis often adding some comments. Every main meal was the equal of any 4-star French hotel that boasts of its restaurant.

What else besides wallow in food and drink?

The minibus sightseeing trips were flexible. Burgundy is packed with historic sites, as befits such a rich area which the Romans favoured and which flourished under the great Dukes of Burgundy.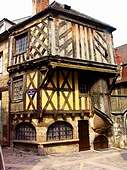 Auxerre is crammed with superb 16th-century half-timbering in the riverside area which was formerly home to the boatmen. The town centre is equally interesting, wrapped around an ancient clock tower built on Roman foundations.

Something different: southwest of Auxerre craftsmen are building a 12th-century fortified castle called Guédelon, using only medieval techniques. The project was started in 1997, and will take 25 years to complete.

You can watch stonemasons, carpenters, blacksmiths, rope makers and other workers using the tools and skills of the Middle Ages.

Another afternoon we visited something equally traditional - the holding of a village fair and informal market. It gave us a good close-up view of French life.


Historically, the hilltop Unesco world heritage town of Vézelay was the prime destination. Vineyards around Vézelay date from Roman times. Monks founded an abbey in the 9th century. The basilica, housing the miracle-working relics of Mary Magdelane, became a major place of pilgrimage.

From here the 2nd and 3rd Crusades were launched. For many centuries Vézelay has also been the departure point for regular pilgrimages across France and northern Spain to Santiago de Compostela.

Five miles away is the 12th-century Chateau de Bazoches, where Richard the Lionheart stayed before joining the 3rd Crusade. In 1675 it was bought by Marshall de Vauban, the most famous French general and strategist. From here Vauban directed his military engineers to work out most of the plans and studies for 300 fortified towns and constructions throughout France.

With all entrances paid, this was the most all-inclusive holiday of a lifetime. It was seven days of being totally pampered, for blissful memories of relaxation and great cuisine amid the unspoilt scenery of this corner of France. back to top
Rick Stein's French Odyssey is back on UK Screens!

We're pleased to announce that the BBC is repeating their 8 part series on Rick Stein's French Odyssey barge trip from the Atlantic to the Mediterranean. Part two was aired on Thursday 20th July and the rest of the series is due to continue every Wednesday evening on BBC2 at 8.30pm.

For new viewers, this is where you can see Anjodi in action! For an insight into how we became involved in this series, visit the May 05 Lockkeeper

Rick chartered Anjodi & Rosa (Anjodi's retired sister) to take him all the way to the Mediterranean. Currently her cruise route is between Beziers and Carcassonne on the Canal du Midi.

For passengers wishing to follow in Rick's wake and continue from the Canal du Midi to the Mediterranean, we are happy to introduce Anjodi's big sister, Impressionniste. For details on special 2006 pricing on board L'Impressionniste, please visit the May 06 Lockkeeper and look for "Barge TV Stars"
Consuming Passions on La Belle Epoque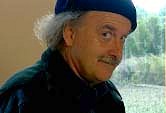 We were very pleased to host Ian Parmenter, celebrated chef and writer from Australia, on board La Belle Epoque in June. Ian grew up in Belgium, spent 20 years in TV production for the ABC, and his long-running series - the 5 minute Consuming Passions segment - is still seen on the ABC and in over 20 countries throughout the world. Ian will be returning to France to cook and barge with us again in 2007.

Here's what he said about his trip:

First, I must thank and compliment Derek and his team of professionals on the barge experience and the organisation of the adventure. Superb is one word which encapsulates it quite neatly.

Second, I have to say that the food and and wine components more than met expectations. Louis did a fabulous job, complemented by the work of Emily and Naomi, who put a colourful and cheerful spin on the presentation of food and beverage, particularly the wines and cheeses. If Louis and Emily are there next year, I shall be very pleased... no, make that ecstatic...

Nick was the consummate host, never in your face, but always around where anything was needed... highly entertaining and a great skipper. Captain's table was a great success. I am particularly grateful that at the end of the trip, we were all given print-outs of the meals served, along with the matching wines. A splendid idea. It certainly saved a lot of time for this lazy, sometime journo not to have to take notes of everything.

I thought that travelling in the direction from Clamecy to Auxerre was a terrific opportunity to make a bucolic start to the journey, finishing with the busier city of Auxerre. However, I've no doubt it would work equally well the other way. Visit La Belle Epoque here. back to top
News
Rosa Retired
With the re-release of Rick Stein's French Odyssey on BBC TV, we have received many enquiries about the barge Rosa, which appears in episodes two and three.

We are very pleased to announce that Captain Bernard has become the proud father of a bouncing baby boy and has decided to hang up his captain's cap for a while to enjoy the new addition to his family.

Very sadly, this means that Rosa barge has been retired from service, making the area upstream of Toulouse the poorer for her absence. We hope one day to see the reappearance of Rosa on the waterways of south west France.
Anjodi cruises on
Here's a bit of timely feedback from a recent Charter group:

My husband and I were guests of the Anjodi July 9-15, 2006 and want to pass on our highest compliments to the most professional staff. Julian not only was a careful and exacting captain but astounded us with his knowledge of French wines and his ability to share that knowledge. James was charming and most knowledgeable of the history of the area. We also admired his way of finding all the back roads so that we were never stopped in traffic. We wish him well in the travel industry as he was always working to improve his skills.

Kirsty rated a 10 as a French chef. She quickly tailored the foods to our tastes and gave us a great overview of all the "bests" of the reigon. It was difficult not to over eat as everything was so wonderful and beautifully presented. Naomi was the boat sweetheart. We were charmed by her hospitality and her ability to do all things. She was a great "cheese talk lady". Having such a capable staff adde to the pleasure of the trip for all eight of us and I wanted both the staff and the bosses to know.

Sincerely,
M E & G V.
Richmond,Virginia USA
Nymphea Feedback
Here is some more complimentary feedback we have received from Alice Wolfe who travelled on the Nymphea at the beginning of July:

The meals were so good, that the only night we ate out, we all wish we hadn't. Christine is a jewel! The wines complemented the cooking and it was great fun trying so many different ones. The excursions were fun. Leigh was so knowledgeable and knew everyone, that there was never a dull moment. The Chenonceau castle was wonderful to visit.

If you have any suggestions, feedback or barging stories to tell us, then please e-mail us.We'll be glad to hear from you and share your inputs in the lock-keeper.

Why not email this edition on to a friend, and let them share the fun. New subscribers can sign-up here, and are very welcome. More people are joining every day, so let's keep building a great Barging community..!

That's about it for this 37th edition of the lock-keeper, and hopefully the above articles have whet your appetite for that well-earned luxury cruise..! Please visit barge cruises and have a look around, or follow the individual links above.

The next edition of the lock-keeper will be out in August 2006, so we'll see you then.

back to top