CRUISING ON THE SHANNON

"I miss the River Shannon and the folks at Skiberdeen, the
moorlands and the meadows and their 40 shades of green".
Johnny Cash

When Johnny Cash wrote these words he was flying into Ireland and they became part of the lyrics for one of his most famous songs. Paddy, our singing driver-guide, who has met us in Dublin and is driving us to our destination, entertains along the way. Forty Shades of Green is his opener and he follows up with an enthusiastic rendition of Sweet Molly Malone. It's a great introduction to the Shannon Princess II, our luxurious home for the next week. This isn't our first voyage on the Shannon. We have fond memories of sailing on the original Shannon Princess, replaced by the current vessel two years ago. "You're most welcome", says Owner-Captain Ruairi (Rory) Gibbons as he greets each guest debarking from the Mercedes bus that's brought us to Killaloe. Every week, between April and October, Capt. Gibbons pilots the barge, alternating between the ports of Killaloe and Athlone. Killaloe is the southernmost point on the Shannon for cruising and yachting and Athlone, our terminus point to the north, is just south of Lough Ree.
The Shannon River, longest in Ireland and the British Isles, flows through the country's central plain beginning on the slopes of Cuilcagh Mt. in County Cravan and ending 230 miles further as it empties into the Atlantic Ocean near Limerick. Joined by a number of lake and river systems, the Shannon extends over an area of 1262 miles. Our voyage will cover some 125 miles of bucolic scenery, pass through two lakes and two locks and under magnificent centuries-old stone arch bridges. It's a wonderful adventure that goes by all too quickly in a part of Ireland most travelers never see.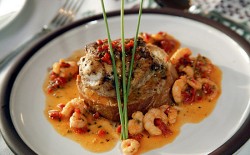 Ruairi's wife and co-owner, Olivia, is one of Ireland's most talented chefs. If the Shannon Princess were landlocked, it would have a Michelin star. She welcomes us aboard and introduces other crew members - Marina, her sister, Monica from Poland, who is pursuing a master's degree in hospitality, and Shanna, an enthusiastic Irish university student. Within minutes we have champagne glasses in hand and are joining in a toast to a successful voyage.
The passenger manifest includes a minister and his wife from Canada, executive secretary from a Fortune 500 chemical company, retired couple from Michigan, Harvard instructor-psychiatrist, and two self-employed executives. It's a typical cross-section of barge enthusiasts, though these cruises are also popular with families, some of whom charter the entire barge. Sandra Bullock brought her whole family aboard, including her mother, a trained opera singer, who wowed a pub crowd when she sang Danny Boy. Ruairi reviews safety measures and outlines our general schedule for the week, which can be amended to suit the majority of passengers. Continental breakfast is served from eight until nine; lunch is usually served at 12:30 and dinner at seven. At night we tie up, then sail during the morning and have an excursion in the afternoon, sometimes followed by a short sail to our mooring.