Hello,


welcome to the January edition of the lock-keeper.

A very Happy and Prosperous New Year to all our readers.

In this month's GoBarging newsletter, we interview our Sales and Reservations Manager Amanda Green, a key member of our GoBarging staff. We feature Actief Gardens cruises and the Fiorita Regatta in Venice and introduce our latest barge Savoir Faire which cruises in France and Holland.

We announce our new Anjodi itinerary from Carcassonne to Beziers and follow in Harry Potter's footsteps on the Hogwarts Express in Scotland.

Find out who has won our case of Burgundy wine and we have a great new January Scottish Highlander cruise competition to kick-off the New Year.

We finish with some Barge updates, a forthcoming Rick Stein book sale and our 2007 Earlybird offer.

So, all-in-all, a good start to 2006 (It's almost February already..!!)

I look forward to hearing from you, and seeing you at our website, where you can find out all about GoBarging and keep up to date with the latest news as it breaks....


best regards,




Derek Banks - Chairman and Barge skipper


in this issue:

Meet Amanda

Garden cruises

Fiorita Regatta

Dutch cruises

New Anjodi Itinerary

Hogwarts Express

Cruise Competition

Wine winner

News

back issues:

july 05

august 05

september 05

october 05

november 05

december 05

visit our website

barge cruise at
www.gobarging.com

BRITISH FLOWER SHOWS
Looking out from my office window onto the sleepy GoBarging garden, sky slightly overcast, a chill in the air, and a few persevering sunbeams (!), it is cheering to think that it won't be long till we see the daffodils and snowdrops popping up to tell us that winter is nearly over.

Already there are buds on the trees and those cheeky bright green parrots (escapees from Windsor Safari Park some 15 or so years ago!) are sitting up there squawking away while chomping on some tasty morsels. There is a lot going on in the GoBarging garden and thoughts drift easily towards garden planning for the coming season.

Talking of flowers, we British are renowned for our love of gardening and the enthusiasts amongst us are already booking our tickets for the Chelsea Flower Show from 23rd to 27th May. This internationally renowned show attracts thousands of visitors every year, intent on seeing the wonderful fruit and flower displays, the exhibition gardens (designed by the brightest and best of Britain's garden designers) and discovering new varieties and colours to incorporate into their own gardens. The whole event takes place at the Chelsea Royal Hospital, home of the famous Chelsea Pensioners, who also visit the show.

Chelsea Flower Show is one of those things you really must visit once in your life if you love plants and gardens - and if you want to make the experience even more special, then why not stay the week on board our barge Actief, which incorporates tickets to the show on her special gardens cruise along the Royal river Thames. This cruise gives a fascinating insight into the history of English gardens, visiting landscaped and botanic gardens dating back to the 17th century.





From 2nd July, Actief goes garden-hunting again, this time the cruise highlight being a visit to the Hampton Court Palace Flower Show. Organised by the Royal Horticultural Society, nurseries, societies and charities create 25 colour filled traditional and contemporary gardens in the grounds of Hampton Court Palace, including spectacular water gardens. There are also stunning floral displays in 8 huge marquees, including the British Rose Festival. A unique feature of the cruise is a visit to Englefield House with its breathtakingly beautiful 7 acres of woodland gardens, deer park and private walled Victorian style kitchen garden - a source of great pride to its owners, Sir William and Lady Benyon, who invite us to have morning coffee and a guided tour.

Visit Actief's Chelsea Flower Show cruise or Actief's Hampton Court Palace Flower Show cruise

The combination of Actief, river and gardens will ensure a memorable, relaxing and refreshing holiday. Actief can be booked by individuals or privately chartered for groups from 6 to 11 passengers.

back to top
LA DOLCE VITA - RIVIERA FIORITA REGATTA
Still on the subject of flowers, back in September and October's editions of Lock-keeper we were delighted to share with you Christina Tarantelli's account of her cruise on board La Dolce Vita at regatta time. If you were inspired by Christina's colourful account, you will be interested to know that there is still space on board La Dolce Vita during the Regatta Fiorita cruise starting on 10th September 2006.


The Flowering River Regatta is probably the most important event on the Brenta river, all the villages along the banks of the Naviglio Canal joining in. The regatta was revived in 1977 and re-enacts the magnificent procession along the river of the visiting French king, Henry III, in 1574.

On arrival in Venice, he received a warm welcome, having followed the river Brenta from Padua, passing by the great country villas of the Venetian nobility. Along the river banks rejoicing crowds and music hailed him and noblemen saluted him from their prestigious palaces.

Today, just as in former times, on the second Sunday of September people enjoy the colourful passing of the historic procession of vessels carrying their distinguished guests beautifully attired in historic costumes.

The event is accompanied by a race between the different rowing clubs and the prize-giving for the best team takes place at Malcontenta, the point of arrival for the historic procession.

The Riviera Fiorita cruise starts with a bang on the very day of the regatta, with passengers arriving on the barge moored on the river Brenta. This privileged position allows splendid views of the whole procession from the barge sun deck. Sip a few glasses of Prosecco and enjoy canapés and comfortable seats as you absorb the atmosphere of carnival and festivity and enjoy the sight of the local people revelling in a part of the town's history.

The cruise continues next day with a calm and scenic sail along the river Brenta towards Venice, where you can enjoy another 5 days of great sights, great food and being well taken care of!

To book for the Regatta Fiorita cruise, please contact sales@gobarging.com back to top
OUR MULTI-TALENTED BARGES MONARCH AND SAVOIR-FAIRE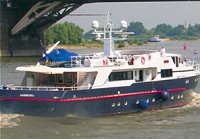 In November's edition of Lock-keeper we were pleased to introduce our new motor yacht Monarch which is just about to start her 2006 season, cruising in Holland and Belgium.

The introduction of Monarch to our repertoire follows long-standing demand for cruises in Holland. We can now offer five different cruises on Monarch, which will take you all over the country, at all times of the year and not limited to Tulip Time! How about that for service!

Monarch is slightly different from the rest of our barges, in that she is a modern motor yacht cruiser, without a haulage background. Her five itineraries combined cover around three quarters of the country, from Amsterdam to Rotterdam and from The Hague to Arnhem. Despite this being a modern vessel, Monarch follows the same philosophy as all our other vessels, taking it easy at a slow and elegant pace. The contrast between cruising in Holland and the rest of Europe is that you can experience life both at and below sea level! Monarch's itineraries cover canals, rivers and lakes, making visits to charming villages and hamlets, absorbing museums and exhibitions, food markets, fishing harbours, potteries, beaches, dunes, over dykes and through locks. Have a look at her itineraries.

There is a wealth culture and sights in this tiny country of which the inhabitants are justly proud. On two of her itineraries, Monarch also ventures into neighbouring Belgium, stopping in Antwerp, magnificent Flemish cultural centre and sea-port, and visiting Bruges, Belgium's mini-Venice and centre of lace, chocolate and beer!

If you are interested in travelling on Monarch, there is still space on her 16th April departure.
SAVOIR-FAIRE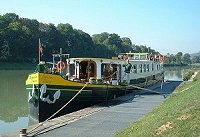 We have certainly been busy this winter, looking for additional places to take you in 2006.

Savoir-Faire is the most recent addition to our fleet, a spacious and neat 12 passenger barge cruising in Holland and France. This charming barge has a colourful history, having at one time been used as a landing vessel for allied troops during the second world war. Savoir-Faire, like Monarch, is able to offer a multitude of itineraries - she offers 4 routes during the season, focusing on western Holland, Burgundy, Champagne and Paris.

Savoir-Faire's March and April cruises concentrate on the area between Haarlem and Delft in western Holland where the multicoloured striped tulip fields delight the eye. Visits to the world's biggest flower auction at Aalsmeer and the magnificent Keukenhof Gardens meld well with the interesting programme of excursions, aimed at showing you the best of these western provinces.

By May Savoir Faire has moved to France and from then until October she is able to offer our clients a programme of brand new cruises between Paris, Burgundy and Champagne. Highlights include visits to the world famous Champagne cellars of Moet et Chandon and the Chablis cellars of Domaine Laroche, Brie cheese tasting in Coulomniers, the chateaux of Vaux-le-Vicomte and Fontainebleau and chance to cruise through the heart of Paris, stopping of course to see the best sights.

During May and October, Savoir-Faire makes her transit between Holland and France. Passengers can join these cruises in their entirety as a 13 day holiday or else they can take the first or second half of the journey as a 6 day cruise: Amsterdam to Ghent or Ghent to Paris. This route takes Savoir-Faire through two vastly different cultures and some captivating scenery. It is also a great opportunity to become better acquainted with Belgium, a tri-lingual country of many facets and colourful traditions.

Visit Savoir-Faire's Dutch and Burgundy itineraries on our website. For her 13-day cruise programme between Amsterdam and Paris, or her itinerary in Champagne, please contact us at sales@gobarging.com. back to top
January competition

Scottish Highlander cruise for two



To celebrate the New Year, we have a great new competition to win a cruise for two on Scottish Highlander. Visit our January competition page, answer some fun questions, and you could be the lucky winner..
December competition
Burgundy Wine winner

In December's competition, we offered you the chance to win six bottles of fine Burgundy wine.

See who's won our Burgundy Wine here.




News
Barge Refurbishment update
L'Impressionniste is in the Namur Shipyard in Belgium, having her 2 yearly hull inspection for safety certification.

La Belle Epoque is in the Zelzate Shipyard having some electrical work done to the 220V system.

L'Art de Vivre is now out of her Paris shipyard, having had a completely new propellor shaft and housing and refaired propellor.

Scottish Highlander is having her trusty Gardener Deisel over hauled and fuel tanks cleaned out. Cabins are being refurbished with new wallpaper and pint.

Anjodi has beautiful new cabin portholes being made by Hetanker company in Holland. They will be delivered later this week and fitted during February.
Rick Stein's French Odyssey
Watch out for our online book offer of British celebrity Chef Rick Stein's French Odyssey regional cook book, priced at £20 for UK orders, and $35 for rest of world, incl post and packaging.
2007 earlybird offer
All bookings by the end of March 2006 for the 2007 season are offered at 2006 prices. Contact us by email at sales@gobarging.com or use our online Availability form to book your cruise.


If you have any suggestions, feedback or barging stories to tell us, then please e-mail us.We'll be glad to hear from you and share your inputs in the lock-keeper.

Why not email this edition on to a friend, and let them share the fun. New subscribers can sign-up here, and are very welcome. More people are joining every day, so let's keep building a great Barging community..!

Thats about it for this 31st edition of the Lockkeeper, and hopefully the above articles have whet your appetite for that well-earned luxury cruise..! Please visit barge cruises and have a look around, or follow the individual links above.

The next edition of the lock-keeper will be out in February 2006, so we'll see you then.

back to top