Venice: a view from the water (cont'd)

Relieved of all responsibility for shopping, cooking, getting from A to B and choosing the most interesting places to visit, I was able to savour the beauty of my surroundings rather more eagerly than during previous visits, when I (or someone else) was invariably footsore or hungry, boiled or indecisive. Whether lulled by the soothing thrum of the engine or the chance to sunbathe almost uninterrupted by culture (unless they fancied it) the children lapsed into remarkable good humour.
Barging provides a safe adventure for people with offspring young enough to need to be kept within earshot, though not under constant supervision, but it is more commonly chosen by groups of adults - or even couples - who want to relax in one another's company. The biggest danger is that, after a week of seeing Venice from this unusual perspective, I have become a crashing snob. "You don't know the carving at Malamocco! You haven't seen Attila the Hun's stone throne at Torcello!" I shall remark, stunned, to the next person who returns from admiring the better-known treasures of the Frari and the Scuola San Rocco. "I always prefer the view of the Villa Malcontenta from the water," I shall say to Palladio fans. I might add some comments about the Tiepolo ceiling and Napoleon's sunken bath at the Villa Pisani in Stra - but by then my head will probably have been beaten in.
With three members of staff - a captain, a cook and a hostly figure - such a week does not come cheap. This blissful experience cost £8,200 for six of us in low season; in high season a further £2,000 would have been added to the bill. That's a huge amount for those of us who don't earn City bonuses, but we would have spent at least that much if we had stayed in hotels, had all our meals in first-class restaurants and knocked back vast quantities of the Veneto's best wines (the record for a week's wine consumption on board stands at 100 bottles, all of it included in the price). The price also covers a water taxi up the Grand Canal - which is far from trifling - bicycles, which we took with us for excursions, tickets to everything, excellent guides and even indigestion tablets when I regretted the gusto with which I had been devouring six courses for lunch and dinner.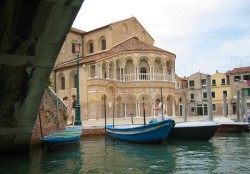 Surprisingly, barging has not yet caught on in a big way. La Dolce Vita is the latest addition to European Waterways' 17 luxury barges of varying sizes; in 30 years, owner Derek Banks has gradually extended the network to cover France, Germany, Holland, Belgium, the Czech Republic, Scotland, Ireland and England. As custom builds in the Veneto, there are plans for more itineraries in Italy. There could be a boat going further up the Brenta to Padua, or one on the Po around Mantua. It might also be possible to chug from Venice to Trieste past all manner of lesser-known treasures, such as Roman Aquileia, but sadly it will never be possible to navigate from Ostia to Rome itself, because there are no locks to prevent the Tiber running dry in high summer. For the moment, though, there is only La Dolce Vita puttering around the 212-square-mile Venetian Lagoon. In years to come, the waterways could become as clogged as the walkways near San Marco, but right now it is possible to have them all to yourself.
Please visit La Dolce Vita or contact us today about a cruise in Italy.