Hello,

welcome to the February edition of the lock-keeper.

The 2006 season is fast approaching and bookings are going very well, with many inquiries for 2007 and 2008 also..!

In this month's GoBarging newsletter, we meet Isabelle Price, our Accounts manager and we Barge through Burgundy aboard La Belle Epoque with Irvina Lew.

We feature two new WayFarers walking cruise itineraries in England and France, and tell you about the Keukenhof Gardens which feature on our Dutch Tulip cruises on MY Monarch and Savoir Faire.

Talking about Monarch, we have a 50% discount on second cabin bookings for cruises booked before the 15th March, so you'll need to move quickly on this one.

We announce our January cruise winner and have a Dutch cheese competition this month. Along with various news items, there's plenty on offer in this month's newsletter.

I look forward to hearing from you, and seeing you at our website, where you can find out all about GoBarging and keep up to date with the latest news as it breaks....


best regards,




Derek Banks - Chairman and Barge skipper


in this issue:

Meet Isabelle

Barging through Burgundy

Monarch Offer

Walking cruises

January Competition winner

Keukenhof Gardens

Dutch Cheese competition

News

back issues:

july 05

august 05

september 05

october 05

november 05

december 05

january 06

visit our website

barge cruise at
www.gobarging.com

Barging Through Burgundy
By Irvina Lew
courtesy of Wine Adventure Magazine


"Why Burgundy?" asked friends, who remembered that my husband, Bob, and I had previously toured the richly rural region via barge, riverboat and rental car. Our return was less focused on the wonder of discovery and more about a re-entry to a bountiful and delightful place. The fact that I'm a fan of Burgundy wines who appreciates that the local Chardonnay and Pinot Noir are a gift of the region's volcanic limestone-rich terroir made the choice of destinations clear. We like traveling leisurely on a hotel-barge and booked a week-long cruise on the 12-passenger La Belle Epoque, which cruises the shallow waters of the Canal du Nivernais in western Burgundy.

In 1775, the French constructed 750 miles of navigable waterways in Burgundy. Designed mainly to transport lumber from the Morvan Forest, and produce and regional wines to Paris, they were made for long, narrow, shallow-draft barges. Today, a number of barges have been beautifully redesigned to house staterooms with private baths and a lovely living area for guests, an upper deck (ours even had a hot tub), galley, pilot house and crew quarters.

Though the area is just two hours from Paris, visitors who barge on the canals crisscrossing the countryside avoid tourists, crowds and commercialism. What they rarely avoid is wine. The wine industry has a thousand-year-history in Burgundy and dates from the 900s, when monks started producing wines from grapes grown in their walled vineyards. Even then, Burgundian wines were called "the best in Christendom". Reports suggest that there are about 4,500 individual and mostly small (some are less than three acres) winegrowing estates in Burgundy and more wines labeled A.O.C. (appellation d'origine contrôlée, the highest and best known level) than any other region in France.

Each estate's unique soil, altitude, climate and exposure conditions - the terroir - determines its individual nuance and character. Depending upon its quality, a special vineyard is determined to be Grand Cru or, next best, Premier Cru. Some wines are named for a village such as Chablis, or for the region; the area where we cruised near Auxerre is called Bourgogne Grand Auxerrois. Among the 150 Burgundian domains, many offer a friendly welcome and free tasting. On board, we were served ample supplies of one well-chosen white wine and one red wine at each lunch and dinner, culminating with a 2001 Gevrey-Chambertin at the Captain's Dinner.

When our barge docked in Saint Bris, a town boasting 12th century cellars and surrounded by vineyard, we walked up the path to Les Caves de Bailly, which offers tours and tastings. During the harvest, visitors can watch the wine presses work throughout the night. This winery is located within a 22-mile-long medieval labyrinth that was once a limestone quarry and was used for a time to grow mushrooms.

back to top
Barging Through Burgundy
- continued

On another excursion, we traveled along country roads and across rolling, grape-planted hillsides towards Chablis. The rural Burgundian countryside, with its red-tinged rhubarb and straw-colored wheat fields, mirrors the colors of the green, ruby and gold glazed-ceramic-tiled rooftops of Dijon and Beaune. The food on board our barge was hearty and sometimes elegant country fare showcasing local products. From our first sip of Kir made with sparkling Bourgogne Aligoté from Les Caves de Bailly with bites of gougères, to garlicky escargots, to the final slices of Pain d'Epice, the food and drink was superb. And even though we were often a distance from any markets, fresh baguettes and pâtisseries appeared at breakfast daily, often delivered dockside in a miniature open-sided van.

Our guide always carried a shopping list, and it was especially long when we paid a visit to Ferme de Misery. This 18th century farm is fashioned after those that Napoleon III had visited in Norfolk, England, where buildings are laid out in an efficient, symmetrical quadrangle around a central courtyard. Proprietor Marie-Odile Dhuicq hand-feeds the ducks she and her husband raise in large buildings. We tasted her homemade products in her little farm shop between sips of Chablis: foie gras, country paté, smoked duck breast, rillettes and jars of confit. Her homemade preserves using local fruits appeared on our breakfast buffet, along with crusty baguettes and farm-fresh sweet butter. Fresh fruit, cereal, yogurt, pains au chocolat and fruit-filled pastries decorated the buffet.

Buffet luncheons featured a main dish such as garlic-roasted chicken, quiche with bacon or with scallops and carrots, an entire ham or a platter of charcuterie from a local purveyor served with grainy Dijon mustard, or a seafood risotto. In addition, there were always at least two salads. At both lunch and dinner, the hostess would describe the origins and personalities of each variety of wine and cheese to be served. Among the goat, sheep and cow cheeses we tasted were a creamy local Chaource, Soumaintrain, a rich Brillat Savarin, Chambertin, aged St. George, Epoisse washed in Marc de Bourgogne and a strong bleu cheese from the Alps, Tomme de Savoie.

Dinners were served at the large table in the salon and regional specialties predominated: Daube de Charolais and Bresse chicken breast filled with brie and wrapped in Parma ham. After our visit to La Ferme de Misery, pan-fried foie gras with sautéed apples and brioche and roasted maigrets de canard with a wild mushroom sauce appeared on the table.

Fortunately, there was ample time between morning strolls and daily excursions to walk off our mid-day meal. We also drove through the dense Morvan Forest to tour the Chateau of Bazoches-du-Morvan, where Richard the Lion-Heart paused during the Third Crusade in the 12th century. Since 1675, when Marshal de Vauban bought the chateau, all the Counts and Lords who have lived there have been ancestors of the present owners. It is now completely restored and is one of very few chateaux furnished with original, signed, family-owned 17th and 18th century pieces, including a Louis XV bureau, Louis XVI armchairs and Aubusson carpets.

back to top
Barging Through Burgundy
- continued

Just six miles further, we passed the vineyards where grapes for the famed Vezelay wines grow, surrounding the Basilica of Vezelay. The Basilica, built circa 1180, dominates a mountaintop that pilgrims call the "eternal hill." Now, that pilgrim's path upwards to the church is lined with boutiques selling religious artifacts, chic little shops and a fantastic wine store.

Back on board La Belle Epoque, there was always time to spare and few decisions to make: we lazed for hours, books in hand, drinks and cameras nearby, either on the aft deck or indoors, near large windows in the salon or in the cozy stateroom. Photography buffs captured flocks of birds flying south, white Charolais cattle grazing by the river and Bresse chickens with their identifying white feathers and red cockscombs. The calm was only occasionally interrupted when the barge touched the sides of the narrow canal, or when lock-keepers raised the hand-swung bridges. Walkers and bike riders timed their jaunts so as to reach the locks in concert with the barge.

We awoke one morning to the sound of people speaking on shore and noticed that we were docked next to the weekly market. On shore, we meandered among villagers laden with straw or string baskets, greeting vendors like old friends. They carefully selected the last of the heirloom tomatoes, apples, cabbage, cheese, spices, bread, pâtisserie and charcuterie.

On our last day, a Miami architect and I pedaled along the tow path into Auxerre, the largest small city in this part of Burgundy. We rode into and through the football stadium (the local team didn't seem to worry about security), crossed at the first stoplight we'd seen since we arrived the week before, and rode past the half-timber houses that line the streets of the Vieux Quartier to the Gothic church that dominates the hillside. We toured the glorious Cathedral of St. Etienne, admiring its stained glass windows and Romanesque crypt before riding back to the waterfront, where a carnival was about to open along the Yonne River. Finally, as we watched the La Belle Epoque move unhurriedly toward its berth along the Quai de la Marine, I recalled why we return to barge in Burgundy: Daily life on board is as languid as the region's iconic escargots, and just as full of flavor.

Please contact sales@gobarging.com for details of our Burgundy cruises aboard La Belle Epoque.
MONARCH SPECIAL PROMOTION 2006

50% DISCOUNT ON 2ND CABIN - OFFER VALID TILL 15TH MARCH 2006

We have a great offer for anyone interested in Dutch cruising aboard the MY Monarch. For the cruise period from 26th March till 4th November 2006 - Book and pay before 15th March and get a 2nd (junior) suite with a 50% discount (based on double occupancy per cabin), and we are also offering a 25% discount with full charter bookings.


| | | | |
| --- | --- | --- | --- |
| | value | mid | regular |
| Full charter | $46,440 | $52,900 | $59,400 |
| Suite | $4,530 | $5,170 | $5,790 |
| Junior suite | $4,150 | $4,730 | $5,310 |


Please contact sales@gobarging.com about our MY Monarch offer. back to top
THE KEUKENHOF GARDENS


The Keukenhof Gardens feature prominently on our Dutch cruises which are all the rage during the springtime when all the tulips burst out into bloom. Our Marketing Manager, Bobbie, has been there around 40 times over the years and has never grown tired of it!

Can you imagine seven million flower heads? Well that's how many bulbs Keukenhof's management say will be blooming this year in the 32-hectare park. What a spectacle and absolute treat for all those who cruise on Monarch and Savoir-Faire this spring.

The Keukenhof Park is an inspiration for nature lovers and gardening enthusiasts from all over the world. It combines both traditional and landscape gardening, interspersed with lakes, sculptures and imaginative plantings, bridges, windmills and pavilions containing floral, photographic and creative art exhibitions.

"Keukenhof" means kitchen garden and part of the current park was indeed the kitchen garden of an enormous 15th century estate belonging to the Countess of Holland, Jacoba van Beieren. This was developed into the present-day 32 acre dream over the centuries.

The idea of creating a permanent annual open-air flower exhibition was conceived in 1949. In its first year, 236,000 people visited - now it's more like 900,000!

Keukenhof has become one of the best-known attractions in Holland and one of the most photographed sights in the world. If you've not seen it yet, it's unmissable!

This year on Monday 17th April an Easter Parade will be held in the Keukenhof where every visitor can participate in an Easter bonnet contest followed by a colourful and cheerful parade through the park and an award to the winner. All the mad hatters of Holland are bound to be there, along with haute-couture designers - it should be a great day.
JUST A FEW FACTS AND FIGURES -
The Netherlands:
produces 60 percent of the world's commercially-grown flowers in over 18,000 cut flower and plant nurseries
controls 93% of the world trade in flower bulbs.
exported almost $184 million of flower bulbs in 1980.
Sells the majority of its flower bulbs within Europe: $52 million.
Employs more than 7100 people in the flower bulb industry.
Nearly 10 percent of all flowers sold in the US come from the Netherlands.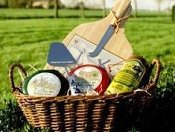 Dutch Cheese competition
Our February competition offers our Lockkeeper readers the chance to win some fine Dutch Cheese. Enter the Dutch Cheese competition here.

back to top
News


ISLAND HOPPING BETWEEN SCOTLAND AND IRELAND JUST GOT EASIER!
We have just heard that it will soon be possible to fly direct from Dublin to Inverness with Aer Arran, which makes it so much easier to take two consecutive barge cruises in Ireland and Scotland. The Dublin-Inverness route begins on 10th April 2006 with departures from both towns on Mondays, Wednesdays, Fridays and Sundays.
SPECIAL OFFER - SINGLE CABIN OCCUPANCY
All passengers requiring single occupancy in twin cabins on the following barges during the months of April and May 2006 will be pleased to hear that we have suspended the single supplement for these months.

L'Art de Vivre and La Belle Epoque in Burgundy, France
L'Impressionniste and Anjodi in the south of France
Nymphea in the Loire valley in France
Scottish Highlander on the Great Glen, Scotland
Magna Carta on the Thames in England
Shannon Princess on the Shannon, Ireland
La Dolce Vita in Venice, Italy

Contact us by email at sales@gobarging.com
CALLING ALL GOLFERS!
Scottish Highlander has one suite left on her special golf cruise, departing on 28th May. The Cameron suite has pride of place at the bow of the barge and her bed can be configured as a twin or a double.

If you've never played golf in Scotland before, you'll really enjoy playing at the home of golf. It gives you such a frisson of excitement to play on the hallowed greens of Nairn, Fort Augustus and Royal Dornoch - especially in glorious May weather. After a good round of golf, what better place to relax than our Scottish barge, cruising the tranquil waters of the Great Glen.

The price per person includes the accommodation in a twin/double cabin with ensuite at the bow of the barge, all meals, an open bar, all golf fees and transfers to and from the golf clubs and the service of an attentive crew. Prices per person are: US$ 4,190 or UK£2,390

Visit the Scottish Highlander golf itinerary here. Contact us by email at sales@gobarging.com


If you have any suggestions, feedback or barging stories to tell us, then please e-mail us.We'll be glad to hear from you and share your inputs in the lock-keeper.

Why not email this edition on to a friend, and let them share the fun. New subscribers can sign-up here, and are very welcome. More people are joining every day, so let's keep building a great Barging community..!

Thats about it for this 32nd edition of the Lockkeeper, and hopefully the above articles have whet your appetite for that well-earned luxury cruise..! Please visit barge cruises and have a look around, or follow the individual links above.

The next edition of the lock-keeper will be out in March 2006, so we'll see you then.

back to top