A LITTLE JEWEL IN PROVENCE
Those who receive a copy of our new 2007 brochure will notice that we have made a couple of improvements to the itinerary for Impressionniste. On the list of mooring places is the little village of Vallabrègues. You may think « what is the significance of Vallabregues at this time of year ? » - well, if you are the fortunate recipient of a Christmas hamper, it may well have been made there….

Most of the time this village with a population of 1,400 chugs along on its own sweet way down life's pathway, but once a year it becomes a Mecca for talented craftsmen and women from all over Europe with up to 12,780 visitors ! What is the magnet which attracts all these people on the second weekend of August every year ? It's the Festival of Wickerwork and Basketry !
Vallabregues has an interesting history. Despite having being contested by different lords, counts, cardinals and generals for centuries, this village is said to date up to 3,500 years before Christ. By the side of the river Rhone, the population was always bound to the river and its moods. However, flood waters did not always spell disaster, as they spread fertile clay, enabling the growth of reeds. This was the origin of the basket-making industry, which was already firmly established by 13th century in the area around Arles.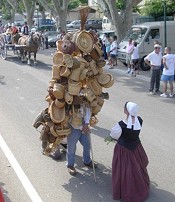 Basket making was officially recognised as a trade in France in 1467. At first basket makers were nomadic craftsmen who lived outside the confines of the town, but later on, they set set down roots in Vallabregues – at one time 450 out of a population of 1,818 were basket makers. In the early 19th century, it also gained much acclaim through Frédéric Mistral's romantic poem "Mireille", where Mireille falls in love with Vincent, a basket-maker from Vallabregues.
The town was exploding with life – a theatre, an orchestra, 5 cafes, lots of festivals – the Vallabregues basket-makers were busy all the time making baskets of all shapes and sizes for domestic use and to transport goods. But with the passing of time came the appearance of plastic, cardboard and wood-based packaging. The basket-makers couldn't compete. The reed beds disappeared, agriculture and woods took their place and cheap Eastern imports struck the final blow. This wonderful chapter in the village's life was in danger of being blotted out.
Fortunately, though, a little nucleus of basket-makers managed to survive in the Touraine region and it was from this cooperative that the seed of this craft was able to re-germinate. Opened in 1994, a museum of basket making appeared in Vallabregues and in November 1997 basket-making started again in town.
In 1990 the people of Vallabrègues wanted to stage an event to revive this important part of their heritage, so they got together and set up a re-enactment of the 2 day festival which used to be held to celebrate the return of the reed-cutters, as they returned to town after having spent 2 weeks cutting reeds in the Camargue. Ever since then, every August Vallabrègues becomes once more the capital of basket making, with basket-makers from all over Europe converging on the village. It's not only a festival, but also a marvellous business opportunity as relationships are cemented between buyers and sellers who meet at this unique event.
Baskets and other wickerwork objects are hung up all over town on gaily decorated stalls while these talented craftsmen demonstrate and conduct their business. Some people dress up in old-time costume and join in the Reed Cutters' Parade as it proceeds through town with carts and carriages festooned with baskets.
On the Sunday morning a special outdoor church service is held and later on, a grand dinner, during which local dishes and wines are healthily sampled and folk old and young dance into the small hours.
Contact us today for more information about Impressionniste
Festival Photos
back to top