This month's competition



To celebrate the holiday season, we are offering a new fun competition to win six bottles of fine Burgundy wine. All you have to do is visit the December competition page and follow the instructions there...


November competition
Win the Ultimate Christmas Hamper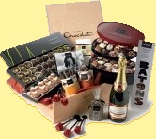 To celebrate November's edition of the Lock-keeper newsletter we ran a competition with a bumper prize. To win, all you had to do was answer a few simple questions. Answer all questions correctly and you could be selected at random to win the Ultimate Christmas Chocolate and Champage hamper...packed to the gunnels with essential Christmas luxuries: See who's won our great prize




News
Routine maintenance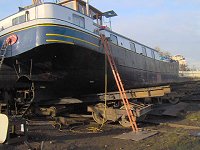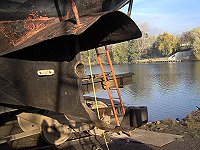 This winter sees three vessels having shipyard work. Art de Vivre, Impressionniste and Belle Epoque in Three different shipyards in France, Belgium and Holland. Every couple of years we slip the barges checking rudders, propellors, hulls for wear and generally making sure everything is up to scratch.
GOLFING HOLIDAYS -
Calling all golfers!

Are you looking for a different base for your golfing holiday? How about a barge! A golfing holiday with European Waterways gives you an interesting mix of cruising, relaxation, sightseeing and golf, all complemented with gourmet cuisine, a well-stocked bar and attentive service from a friendly crew. All your tee times are booked for you and private transfers to and from each club are included in the cruise price. Here is a list of the golf courses you can play at:
l'Impressionniste:
Gran Avignon golf course (18 hole, 6037m, Par 72), Grande Motte golf course (18 hole, 6161m, Par 72), Fontcaude golf course (18 hole 6250m Par 72), St Thomas golf club (18 hole, 6130m, Par 72), Cap d'Agde golf club (18 hole, 6279m Par 72)
Magna Carta:
Hampton Court Palace Golf Course (18 hole, 5953m Par 71), Walton Heath Golf Club (18 hole, 6198m Par 72), Wentworth (optional) (18 hole, 6142m, Par 73), Sunningdale Golf Club (18 hole, 5526m Par 70), Temple Golf Club (18 hole, 5697m Par 70)
Meanderer:
Fontenailles Golf Course (18 hole, 6256m par 72,), Fontainebleau Golf Course (18 hole, 6074m par 72), Montargis Golf Course (18 hole, 5914m par 72) Roncemay Golf Course (18 hole, 6401m par 72), Sancerrois Golf Course (18 hole, 5828m par 72)
Scottish Highlander:
Fort William Golf Course (18 hole, 5377m, Par 68), Fort Augustus Golf Course (18 tee, 9 hole, 4970m, Par 67), Nairn Golf Club (18 hole, 6705 yards Par 72), Royal Dornoch Golf Course (18 hole, 6514 yards Par 70)
Shannon Princess:
Lahinch Golf Club (18 hole, 6115m, Par 72), Portumna Golf Club (18 hole, 6123m, Par 71), Galway Bay Golf Course (18 hole, 5958m, Par 72), Athlone Golf Club (18 hole, 5937m, Par 72 for men and Par 75 for women), Glasson Golf and Country Club (18 hole, 6400m, Par 72)
Actief:
Huntercombe Golf Club (18 hole, 5770m Par 70), Sunningdale Golf Club (18 hole 6187m, par 70 heathland course), Denham Golf Club (18 hole, 5890m Par 70), Wentworth Golf Club (18 hole, 6142m, Par 73) , Stoke Poges Golf Club (18 hole, 6106m, Par 71)
Anjodi:
Cap d'Agde golf course, (18 hole, 6301m Par 72), Lamalou-les-Bains golf course (9 hole, 2600m, Par 35), St Thomas golf course (18 hole, 6130m Par 72), Carcassonne golf course (18 hole, 7200m, Par 72)

If you have any suggestions, feedback or barging stories to tell us, then please e-mail us.We'll be glad to hear from you and share your inputs in the lock-keeper.

Why not email this edition on to a friend, and let them share the fun. New subscribers can sign-up here, and are very welcome. More people are joining every day, so let's keep building a great Barging community..!

Thats about it for this 30th edition of the Lockkeeper, and hopefully the above articles have whet your appetite for that well-earned luxury cruise..! Please visit barge cruises and have a look around, or follow the individual links above.

The next edition of the lock-keeper will be out in January 2006, so we'll see you then.

back to top