News
La Belle Epoque Wayfarers walking cruise on 21st October, 2007
Still available for this year, departing 21st October - 1 suite and 2 Jnr suites on La Belle Epoque.

We walk in the hills above the canal to the pretty cliff top village of Mailly-le-Chateau, finding diverse fauna and fascinating archaeology in La Reserve Naturelle de Bois du Parc. Following lunch on the barge, our walk continues along the canal. Mooring: Lucy-sur- Yonne

Cabins are now available to book for 12 or 19th October 2008, each with a professional walking guide.
Tate Britain Exhibitions - Hokney on Turner, 11 June 2007 – 3 February 2008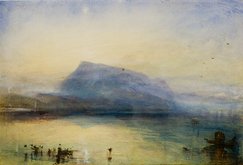 Free Entry
Dazzling, evocative and sublime, this exhibition provides a rare opportunity to see some of JMW Turner's most spectacular works. Usually outnumbered by his grand oil paintings, around 150 of Turner's beautiful watercolours are displayed, giving a comprehensive view of the artist's astonishing use of watercolour, his techniques and his influences.
At the heart of the exhibition another seminal British artist, David Hockney, presents his own selection of Turner's unique colour studies or 'beginnings' and also provides commentary on the artist's techniques.
The exhibition tracks Turner's watercolour work through time. From architecture to topography, ideal and historic landscape to nature studies, and finished works to private sketches, the selection reveals Turner's extraordinary range as a watercolourist. At the same time, it shows the development of the virtuoso techniques that enabled him first to paint watercolours that could compete with oil paintings, and later to transform all aspects of his art by their example.
The exhibition includes The Blue Rigi c1841–2, Turner's magnificent work which was recently acquired by Tate with the help of the most successful public appeal ever organised by The Art Fund.
While in London, why not take a luxury 6 night river Thames cruise on Actief or Magna Carta...?
Shannon Princess Charter offer for September 16th, 2007

There is a 20% discount on Shannon Princess for a whole boat Charter on September 16th, 2007.
Anyone interested, please contact us here - Shannon Princess Charter Offer
Summer Special Offers
ENGLAND - $750/£375 DISCOUNT PER CABIN
Magna Carta, River Thames in England – Available on all available departures in 2007
Early Bird booking for April & May 2008, book by 30 Nov and 2008 value pricing will apply
IRELAND - 30% DISCOUNT PER CABIN
Shannon Princess II in Republic of Ireland - Available on cruise departing 9th September 2007
Conditions: For charter departures the discount per person is applied to the charter rate. Maximum of 2 single cabins can be booked on each cruise departure. Discounts are based on 2 people sharing each cabin, unless specified. Our normal Terms & Conditions apply.
For further information and reservations please contact sales@gobarging.com
If you have any suggestions, feedback or barging stories to tell us, then please e-mail us. We'll be glad to hear from you and share your inputs in the lock-keeper. Why not email this edition on to a friend, and let them share the fun. New subscribers can sign-up here, and are very welcome. More people are joining every day, so let's keep building a great Barging community..!

That's about it for this 50th edition of the Lockkeeper, and hopefully the above articles have whet your appetite for that well-earned luxury cruise..! Please visit barge cruises and have a look around, or follow the individual links above. The next edition of the lock-keeper will be out in September 2007, so we'll see you then.