Hello,
welcome to the August edition of the Lock-keeper.
August and September are mouth watering times in France. The first grape harvest has started in the Corbieres and Minervois regions along the 300 year old canal du Midi. As the harvesting weeks stretch on into September, the grape pickers make their way gradually Northwards, following the well trodden path from Bordeaux, Languedoc-Roussillion and Provence along the Cote du Rhone Valley to Beaujolais and Burgundy, Chablis and Alsace. All barging regions which we have visited for over 30 years.
This harvest is set to match 2005's fine crop, providing the good weather holds and no early frost takes the edge off things. There is almost a unique peacefulness to barge just after the grapes have been picked, a calm seems to fall over the area, all of a sudden there is time to relax in the vineyards and Les Vignerons stop glancing at the sky when they take us through their tastings. Take our Gobarging Wine tour.
This month in the lock-keeper, we travel with Buck Maguire on L'Impressionniste, you can find out what happened to Rick Stein's moped, visit some wildlife in Scotland and climb Ben Nevis, enter August's competition to win a cruise on Anjodi and find out who's won Rick Stein's French Odyssey. We finish with some Golf cruise news and some great feedback from some recent guests.

I look forward to hearing from you, and seeing you at our website, where you can find out all about GoBarging and keep up to date with the latest news as it breaks....


best regards,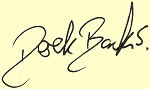 Derek Banks - Chairman and Barge skipper