Hello,

welcome to the April edition of the lock-keeper.

First of all, we would like to apologise to all who have tried to visit our www.gobarging.com website over the last two weeks and discovered it to be inaccessible. The matter has now been rectified and we thank you for your patience.

If you managed to contact us via the website recently and have still had no reply, it is likely that your message was undelivered and we would be grateful to hear from you again.

I'm sure you will appreciate that these things happen, often at the worst times, but we have to keep moving onwards.

April has all but gone and the season is well underway. There are plenty of good things to look forward to, especially the anticipation of another long, hot and lazy summer on the European waterways.

This month in the lock-keeper, we introduce Mike Flanagan, our very experienced and professional Sales manager, and we cruise on Actief along the Royal river Thames in England with Bucky Maguire.

We have an article on Summer in Provence with a great Impressionniste offer, and we announce our March cruise competitition winners. This month's competition gives you the chance to win some fine French wine and, as usual, we also have some latest news and offers, so there should be plenty to keep you interested.

I look forward to hearing from you, and seeing you at our website, where you can find out all about GoBarging and keep up to date with the latest news as it breaks....


best regards,




Derek Banks - Chairman and Barge skipper


in this issue:

Meet Mike

Luxury Barging in England

Summer in Provence

March competition winner

April competition

Cruise News

back issues:

july 05

august 05

september 05

october 05

november 05

december 05

january 06

february 06

march 06

visit our website

barge cruise at
www.gobarging.com

Luxury barging in the English Countryside
by Bucky Maguire


Most holiday makers enjoy exploring a new destination each day, but they know this leads to losing hours on holiday to packing and unpacking and lugging heavy suitcases around daily. When I discovered barging holidays, it solved this problem and I took to it like a duck to water.

Each day was a stimulating contrast and without the stress of daily packing and also the alfresco lifestyle was at a slow pace life should be at. Our London business was temporarily held up, so rather than return to South Africa; we stayed over for the week to go barging on the Royal Thames that runs through the rural English countryside.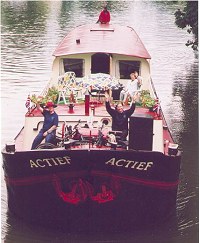 The barge 'MV Actief' was recommended by American business associates and we booked with 'Go Barging'. Surprise, we found prices included fine meals, French wines, exotic cheeses and splendid accommodation plus guided daily trips ashore! Bicycles aboard for exploring quaint villages were free to passengers as well.

On Sunday, all passengers met at the Goring Hotel, a collection point for our luggage and some passengers had stayed there for several nights to enjoy the vibrancy of central London. The happy chappies of 'Go Barging' arrived in a smart bus and soon we were bouncing along, happily chattering over the forthcoming adventure.

As we descended to the Thames, we looked up and saw the stunning Windsor Castle above and had our first sighting of 'MV Actief.' She was known as the grand dame of barging and had a spacious interior and lavish finishes. Recently upgraded, she was now one of Europe's top barges and had a staff of 4 that pampered her 11 passengers. The Queen's flag flew above Windsor Castle which meant Her Majesty was in residence.

It was time for the Skipper's welcome-aboard champagne party and it didn't come a moment to soon for the excited passengers. Actief's dining room is famous for its elegant eating and we looked forward to a romantic candlelight supper served on her fine china. The sun seemed exhausted and drew down a candy floss duvet of pink and mauve clouds as it settled down for the night.

The barge has large relaxing areas such as the lounge, library or flower covered sun deck and we ventured outside to the deck for a last night-cap, well maybe two... What a great way to make new friends, and as it turned out, we still stay in touch. It seemed we all had similar holiday objectives and got along just fine and the single holiday makers aboard expressed how safe this type of holiday made them feel.

Next morning, after a slow relaxing breakfast, the anchor was raised and we thumped along until stopping upstream for a walking tour led by our Captain. We ambled over to Eton College, the Alma Mater to Princes' William and Harry.

Nothing prepared us for the delightful gourmet dinner aboard of tomato and peppered goats cheese - Tian, followed by a main course of chicken Valencia with linguine & baby vegetable, followed by a desert of Pistachio with lime parfait. A handcrafted Hereford Hop cheese followed and its rich buttery flavor was infused with a delightful hint of the countryside. A delicate French liqueur followed as we chugged along in candlelight. Our stress gauge rapidly unwound as we passed drowsy river scenes and tranquil tiny villages that were also settling down for the night. Before retiring we went up on deck to enjoy the solitude of the evening and the clean country air.


Luxury barging in the English Countryside
- continued


Next morning, as the barge creaked alive, I slowly woke up and squinting through our large porthole, saw Canadian geese swimming past making quaint sounds and looking like tiny tugs attending to us. And guess what; they were cruising faster than the barge! Nothing aboard was rushed; 'Actief" even cruises below the speed limit of 8-kph set for all craft by the tough upper Thames environment authority.

Old stress thought activators had dissolved like sugar in warm tea and endorphins were buzzing around our heads like haloes. I took a hot shower in our cabin then slipped on a new tee shirt and shorts and feeling brand new renewed my attempts to stay fit by grabbing a bicycle on deck to cycle off into the morning countryside. Surprise! I bumped into our chef. He was humming like a busy bee over new local cheeses he had discovered to top up the range of 22 he kept aboard. Together we collected fresh long French loaves, daily newspapers and as we cycled back, enjoyed the aroma from the hot bread and the grand chat at the same time (Irish patent) ---- our chef enjoyed the huge relief that barging offered him too.

After a slow breakfast we chugged on to Cliveden, a spectacular 152-acre regal estate and former home of several Counts' and Princess' as well as the famous Astor family. In a cozy lodge here, the Tory MP John Profumo and Christine Keeler had an affair that led to the downfall of the British Conservative Government and the death of Stephen Ward. Rudyard Kipling was also a regular visitor and Lady Astor once said here to Sir Winston Churchill that if he were her husband, she would poison him. He replied if she were his wife, he would drink it. Touché!

Once back aboard, our inspired chef prepared a delightful lunch of Quail with chestnut stuffing, garlic rosti and fresh seasonal vegetables. His desert of Pineapple Tarte Tatin was surrounded with minted homemade ice cream and followed by a fine cheese board featuring an outstanding firm full fat, blue veined Wensleydale cheese.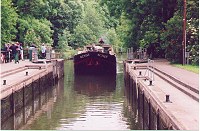 That night we slept like pixies and began the next day by visiting Peter Freebody's ancient boatyard in Hurley (his family have operated it for 800 years!). We then ambled along the paths alongside Actief's' route whilst others cycled, jogged or just sat on the sun deck reading a good book from the barge's library. The barge putt-putted to the next lock where our chef bartered his delicious pastries ( 'so light, if thrown upwards, they floated down') with the lock keeper for fresh herbs from the his garden. Once clear of the lock, we traveled for hours without seeing another human; our stress gauges were showing almost empty.

The next day our Barge Captain again became an informative guide and whilst walking, we heard the sound of tinkling laughter of children swimming in the clear waters of the upper Thames. We ambled to an ancient church where wealthy medieval elite were buried beneath the church floor. Occasionally decomposing odours arose during a service, thus originated the term 'the stinking rich'. The barge was often exclusively hired to golfers who daily played a different course whilst others hired it for conferences, special birthdays and family occasions etc. The next day we would spend in the fun regatta town of Henley-on-Thames.

Our final night aboard had arrived and our Chef recommended a chilled French Loire Valley Sauvignon Blanc with dinner of: Hot smoked Salmon and avocado Tian followed by a main course of Tornedos Peregord and Chateau potatoes with crisp vegetables.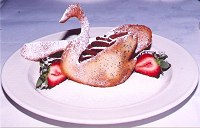 He hand shaped a large Swan in pastry for desert and served it on a bed of farm berries with thick home made ice-cream. Click, click went the cameras as passengers took photos of the exquisite Swan. The featured cheese was a semi soft blue veined Stilton from Colston Bassett village where the smallest Stilton dairy in the world exists. We ended with exotic liqueurs and small cups of Italian black coffee liberally splashed with a good dash of Irish. Good night!

Tempus Fugit (time flies). Unhurried time aboard had led to many laughs and fun with our new found friends. Stress had fallen off passengers in chunks, as effectively as the anchor dropping into the Thames. The cook turned simple food into fantastic, the daily trips and exercise ashore kept weight down and health up. The crew organized a fine send-off party and the next morning, we realised we had probably overdone the champagne a bit but the night had been a beautiful success.

We left Actief sadly, but determined that the benefits of this luxury barge trip would sustain us for a year until we could go barging again. We were hooked. Now we were ready to take on the world and to get back to business.. Visit Actief here

Bucky Maguire (CEE Distinctions)
Freelance journalist
International Travel, Food and Wine C.C.
email: buckaroo@mweb.co.za back to top
Summer in Provence

The colours of spring are fresh on the trees through my window in the Go Barging garden by the Thames. As the season gets underway, our captains keep us up to date with news from the waterside and the blossom is full blown in Provence where Impressionniste is comfortably floating. Avignon is enveloped by the scent of flowers as its orchards of apples, peaches, apricots, cherries and almonds wake up from their winter slumber under the watchful gaze of Our Lady of the Apple Trees in Beaucaire.


Across the river from Beaucaire in Tarascon, the town is making its preparations for the Tarasque festival on the last Sunday in June. Part of the festival will incorporate the story of the legendary beast, the Tarasque, which used to rant and rave around the town, eating people and preventing anyone from travelling on the river!

Fortunately for us, the sister of Mary Magdalene, St Martha, was in the area looking for converts to Christianity. She had a knack with monsters and brought it under control so that the townspeople were able to capture it and fine it for "antisocial behaviour".

At the end of June, a little further south of Tarascon, on the coast, visitors can join in the festivities and soak up the salty spirit of the maritime communities celebrating the feast of St Peter, patron saint of fishermen. Along with a nautical procession and the blessing of the boats, there are barbecues and folk parades.

Anyone who enjoyed Rick Stein's tv series may remember his lively feature on the Provencal sport of water-jousting which rouses much passion amongst the local people.

Two boats rowed by crews of 6 to 8 oarsmen are pitched against one another. At one end of each boat is a raised platform on which the jousters, armed with shields and long wooden lances, take their stand and try to knock one another into the water. It's an exciting spectacle with lots of colour, music and atmosphere.

It is amazing to see how the women of Arles of all backgrounds and ages are attached to their traditional costume despite the trends and fashions of the modern day. It is still worn on many occasions including the Traditional Costume Festival in early July. Anyone who is fascinated with costume and textiles will love the spectacle of streets filled with Arles ladies riding behind horsemen and musicians in their pure traditional dress - a far cry from split-knee jeans, bare midriffs and baseball caps! Ooh la la!

There is one last thing to mention if you are looking for a festival to enhance your visit to Provence. Why not join in the Festival of Avignon, a feast of the senses with music and dance in the theatres and in the streets. Launched in the 1950s by Jean Vilar, the festival now attracts over 500,000 spectators over 3 weeks every July and is one of France's great cultural extravaganzas.

We still have spaces on Impressionniste in June and July if you want to combine a cruise with a visit to the Tarasque festival, the water jousting, the Traditional Costume Festival or the Festival of Avignon. As a celebration of all things Provencal, we are offering all customers booking two cabins a 50% discount on the second cabin.

back to top
March Competition winner


Find out who has won our cruise for two on L'Impressionniste in Provence in August.

Impressionniste cruise competition winner
April Competition


For our April competition, we have 6 bottles of Châteauneuf-du-Pape French wine to give away. As usual, it's easy to enter - just visit our competition page, answer the multiple choice questions and submit your entry..
Châteauneuf-du-Pape wine competition
News
SCOTTISH HIGHLANDER IN THE NEWS
Scottish Highlander has been attracting a lot of interest recently both at home and abroad.

She is the only luxury hotel barge to cruise the Caledonian Canal in Scotland and provides a unique base from which to explore the Scottish Highlands.

In March and April, she was featured on the Scottish Tourist Board's stand at a big New York exhibition, whilst at the same time in the UK, she was the focus of another VisitScotland promotion where people could participate in a competition to win a cruise on board.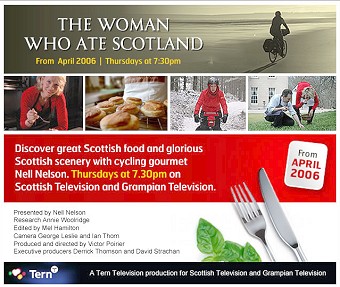 More recently, we were approached by Tern TV who wanted to feature a cruise on board Scottish Highlander for their programme which is due to be aired on May 25th on Scottish TV called:

"The Woman Who Ate Scotland".

If you are able to watch on that night, you'll see food writer and keen cyclist Nell Nelson enjoy the cruise experience, including a creative masterclass in the galley with our talented chef John Baxter, before embarking on a cycle ride into the forest.

Watch out for it!
SHANNON PRINCESS - HOT OFFERS!
Lock-keeper readers who contact us before April 30th to book a cabin on Shannon Princess for departures in May or June 2006 will benefit from a 10% discount. Please contact us here, or

Tel: 44 (0) 1784 482439
USA: 1 800 394 8630
CANADA: 1 888 342 1917

If you have any suggestions, feedback or barging stories to tell us, then please e-mail us.We'll be glad to hear from you and share your inputs in the lock-keeper.

Why not email this edition on to a friend, and let them share the fun. New subscribers can sign-up here, and are very welcome. More people are joining every day, so let's keep building a great Barging community..!

Thats about it for this 34th edition of the Lockkeeper, and hopefully the above articles have whet your appetite for that well-earned luxury cruise..! Please visit barge cruises and have a look around, or follow the individual links above.

The next edition of the lock-keeper will be out in May 2006, so we'll see you then.

back to top